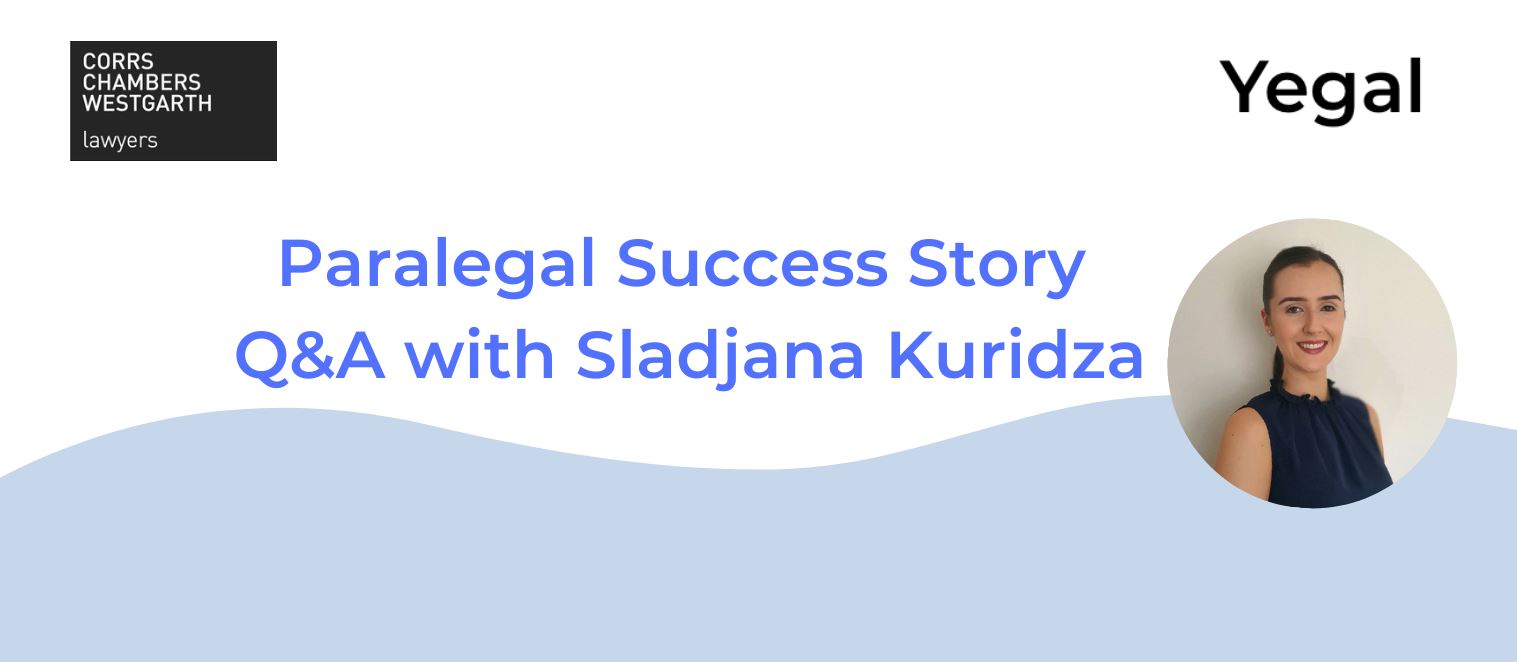 Sladjana Kuridza is our latest paralegal success story. She's been busy in 2022 balancing her university commitments with an exciting Yegal placement.
We tell all law students and graduates that the hardest part is getting your foot in the door. From there, you are able to work out what you areas of law you like and perhaps don't like.
We chat with Sladjana to learn more about her Yegal paralegal experience and what insights she will take with her into 2023.
So Sladjana, you first connected with Yegal in May. You are completing a combined Bachelor's degree in Law and Commerce and have achieved great academic results. Yegal first placed you on an e-discovery project with Corrs Chambers Westgarth in July this year. What was that experience like and were there any new challenges you had to overcome?
Prior to Corrs I had never worked in a commercial law firm, so entering this part of the industry initially felt slightly daunting. Naturally, with any new workplace it can be nerve-racking considering you want to make a positive impression and hope to progress into the role.
However, I was lucky enough to be introduced into a team of kind paralegals, legal assistants, and even associates who were patient with me and guided me through the firm. This made any challenge substantially easier to face. Among the more obvious challenges including learning to use new software, transitioning into the commercial law sector (or the unknown) was perhaps one of the more subtle yet important challenges faced.
I overcame this challenge by always being open to accepting tasks, asking questions, and starting conversations by simple introduction with people I came across. In summation, I had low expectations but showed significant enthusiasm and willingness to work and contribute to the firm.
Having successfully completed the e-discovery project, you have since been getting some experience working with the RISS team. What have you enjoyed most about this transition?
I was really excited to transition into the RISS team! One reason is the different type of work I would be doing. I knew that moving into RISS I would likely be involved on multiple matters over a long period, which means I would have a more in-depth knowledge relating to the matters. I was excited to start doing different types of tasks which I would otherwise not likely do in the e-discovery team including more legal research. I was primarily excited about the opportunity to learn something new, including developing my soft and hard skills. I also like meeting new people so getting to know the RISS team was also an exciting component.
What was the level of support provided to you at Corrs and what impact has this had on your legal skills development?
As previously mentioned, I had met a fantastic team of paralegals, legal assistants and my coordinator was awesome. Any questions I had, and there were many, they kindly guided me and taught me many things. I particularly loved that all the paralegals, including myself, did not foster a culture of unpleasant competitiveness. There was a lot of respect and support between us, and the more experienced paralegals were happy to direct me on how to approach certain tasks or situations.
My coordinator, who assigned tasks and told me the bulk of the things I needed to know, was also extremely patient and understanding as I learnt the ropes. This strong level of support made it significantly easier to become accustomed to a routine, as well as understand and adhere to the standard of work expected of me. This support also made the transition into commercial law a smooth one, and more importantly motivated me to contribute to the firm.
How has your experience with Yegal in this role made you reflect on your long term future in the legal industry? 
Initially, I was unsure as to whether I wanted to pursue a long-term career in the legal industry and was curious as to whether I would enjoy the private sector and the associated work. I felt the best way to resolve this issue was to start working in the industry and Yegal helped me achieve that. For this reason, I am extremely grateful to Yegal for creating the opportunity to work at Corrs.
Having gained some experience at Corrs including being exposed to the culture and the work, it has changed my outlook on both my long term and short-term career. Working at Corrs has exposed me to a new 'world', where now I envision myself as potentially pursuing the path of becoming an associate. I believe without Yegal I most likely would not have come to this realisation or would have been still extremely unsure. I believe getting a position at Corrs through Yegal has opened a completely new opportunity for me and has prompted me to explore different career aspirations.
What advice would you give to those looking to get practical legal experience through Yegal?
If you are looking to get practical paralegal experience, Yegal is an amazing avenue. The communication with Yegal before, during and after the hiring process is great because they actively keep in touch with you over time to check up on your experience and progress. If you seek any feedback or come across any issues, they are really kind and responsive. Even the role preparation offered by Yegal was fantastic and I was not left feeling as if I was thrown in the deep end in entering the role.
Another great benefit is that Yegal's network extends to firms across multiple tiers and specialisations, so if you are looking for certain practice areas or even hoping to work for a mid-top tier firm, Yegal can help you get there. I cannot recommend Yegal enough and I recommend that anyone looking to seek practical legal experience reaches out to Yegal as soon as possible.
If you're looking to hire an impressive paralegal just like Sladjana complete our job form to get started.
If you want to land a paralegal job at a leading Australian law firm through Yegal, you can apply here.